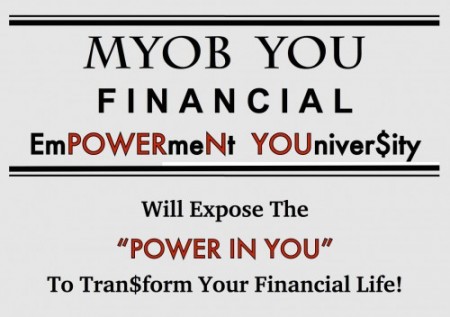 Overview
This Course Will Teach You How To
"Break Free Of Financial Dependency"



(ie. - "How to Escape the Rat Race")



In a Matter of Just Hours, You Will Learn...
FINANCIAL INSIGHTS
That Most People

N-E-V-E-R

Learn In A Lifetime!
(7) Life Tran$forming Money Ma$tery Fundamentals
Fundamental$

: #6 of 7
(5) Enemies To Your Financial Well-Being
(AND HOW TO DEFEAT THEM)
How To

"Make Money Work"

For You!
How You Can

"LEGALLY"

Reduce Your Taxes!
How The Rich

"GET RICHER"

& How You Can, Too!
How To

"Break Free"

Of A J-O-B!
(4) Financial Strategy Comparisons
(PROS And CONS)
SOBERING FINANCIAL REALITIES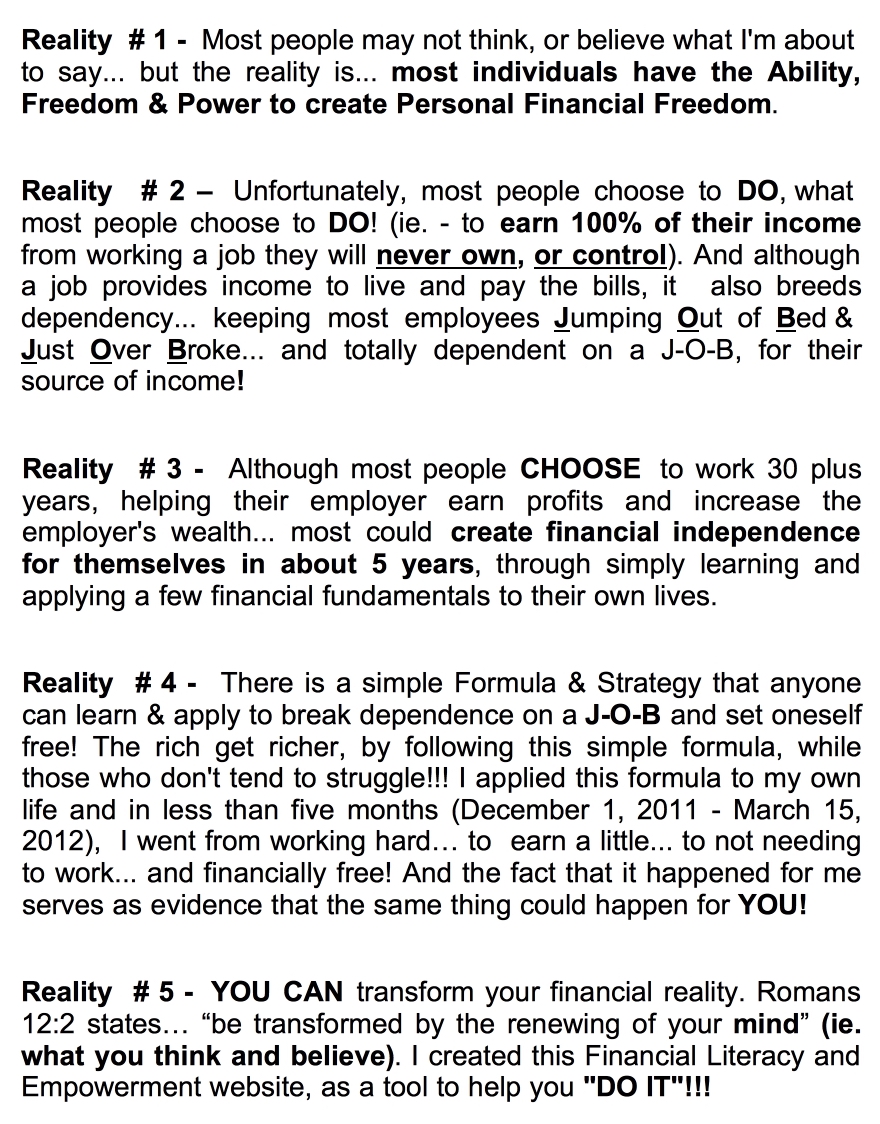 BECAUSE...
"YOU" Are Only Limited By What "YOU" Choose To...
"Think, Learn & Do"!!!
Discover & Profit From
__________________________________________________________________________________________________
The Unfair Advantage Of...

Financial Education!!!
__________________________________________________________________________________________________
Although I have a Business Finance Degree and have been investing in real estate since 1981, the year 2001 was a turning point for me. Four significant events caused a shift in my Real Estate Investing Philosophy, Strategy & Results.

First...

I read two (2) financial books and what I

LEARNED

from those books totally revolutionized my thinking!

Second...

the 9/11 Attacks impacted EVERYTHING... and in addition to enhancing my appreciation for the

uncertainty & brevity of life, it sharpened my focus on "PURSUING MY PURPOSE & PASSIONS"... because tomorrow is not promised to any of us.

Third...

I attended a conference, where Bishop Wellington Boone spoke prophetically into my life... (concerning

"MAKING Money Come To YOU"

) and his wise teachings are embedded into my Residual Cashflow Strategies!

Fourth

and lastly, I began playing the financial education game

CA$HFLOW

by Robert Kiyosaki, which I played almost every weekend for a year... and

IDENTIFIED

a simple

FORMULA

, which I used to launch a Real Estate-Based, "Rat Race Escape Strategy", that allowed me to acquire

$1.5 MILLION

in real estate investments, in just over 3 years through simply...
"SOLVING PROBLEMS"!!!
NEXT STEP...
(Invest In Your "MIND")
Escape Formula

Exposed!
By Learning & Applying a Few
Fact$, Fundamental$ & Formula$
You Can Tran$form Your Financial Life!
HOWEVER, CHANGE..
Requires
ACTION, SO... FIRST
"Learn It"!
Learn What Most N-E-V-E-R Learn At:

"Think It, Learn It, Do It"
Because
What You Learn
Can


Tran$form Your Life!
Start Your Journey Towards Freedom
TODAY!